Main Gallery Exhibitions 2020
---

---
Windows Gallery Exhibitions 2020
---
---
Main Gallery Exhibitions 2019
---

---

---

---
---
---
---
---
Windows Salon Exhibitions 2019
---
---
---
---
---
---
Main Gallery Exhibitions 2018
---
---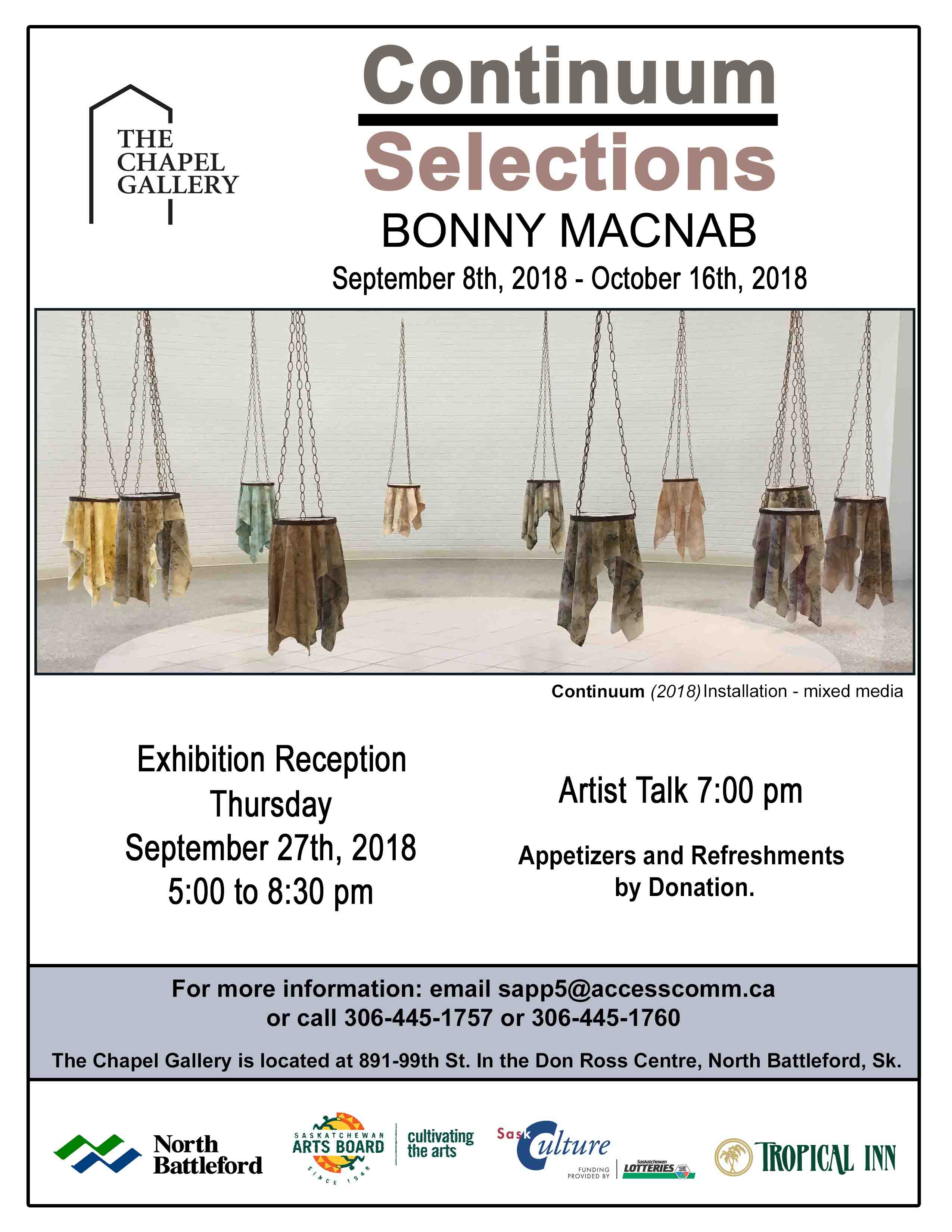 ---
---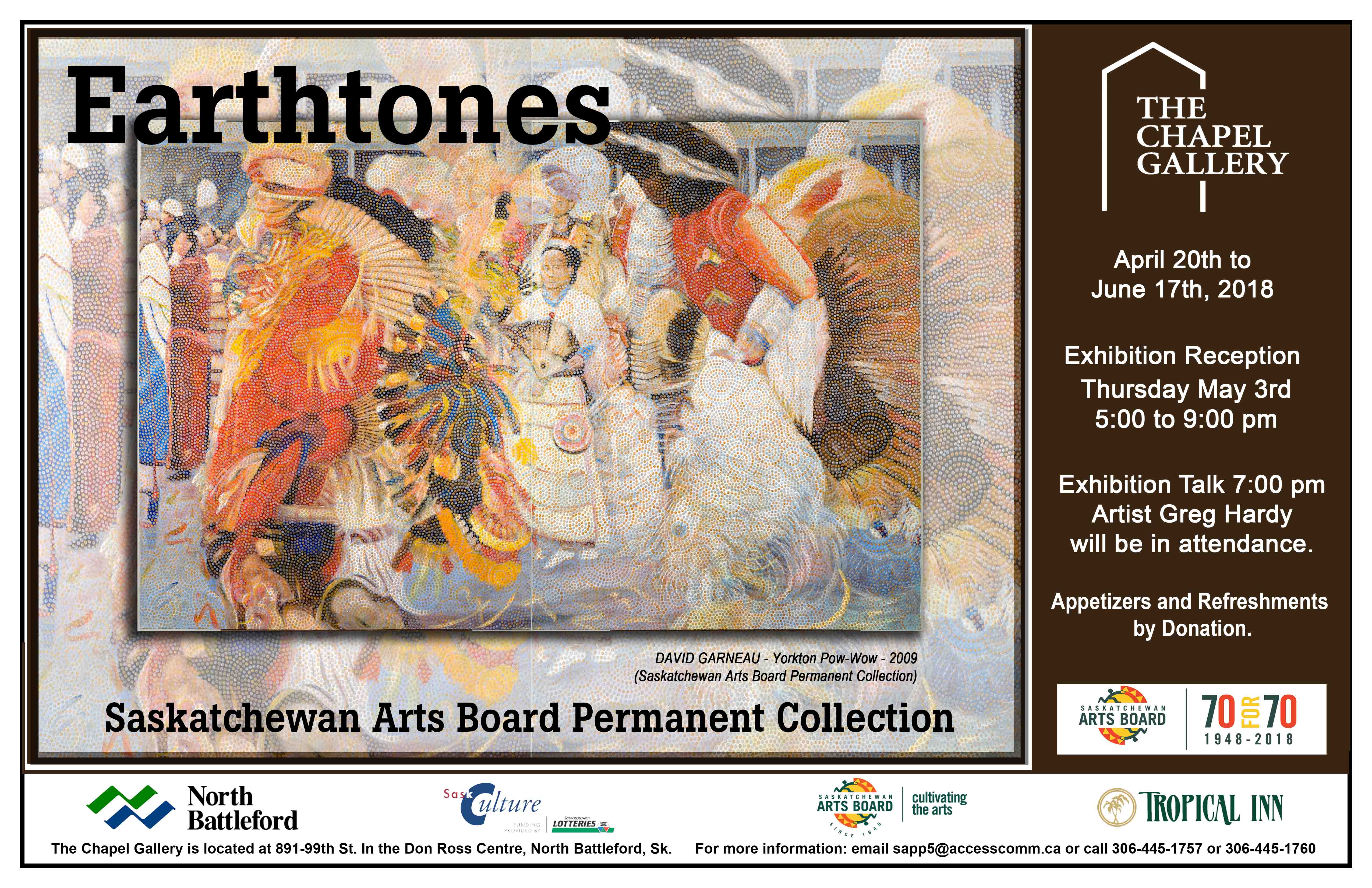 ---
CLICK ABOVE IMAGE FOR MORE INFORMATION
Windows Salon Exhibitions 2018
---
---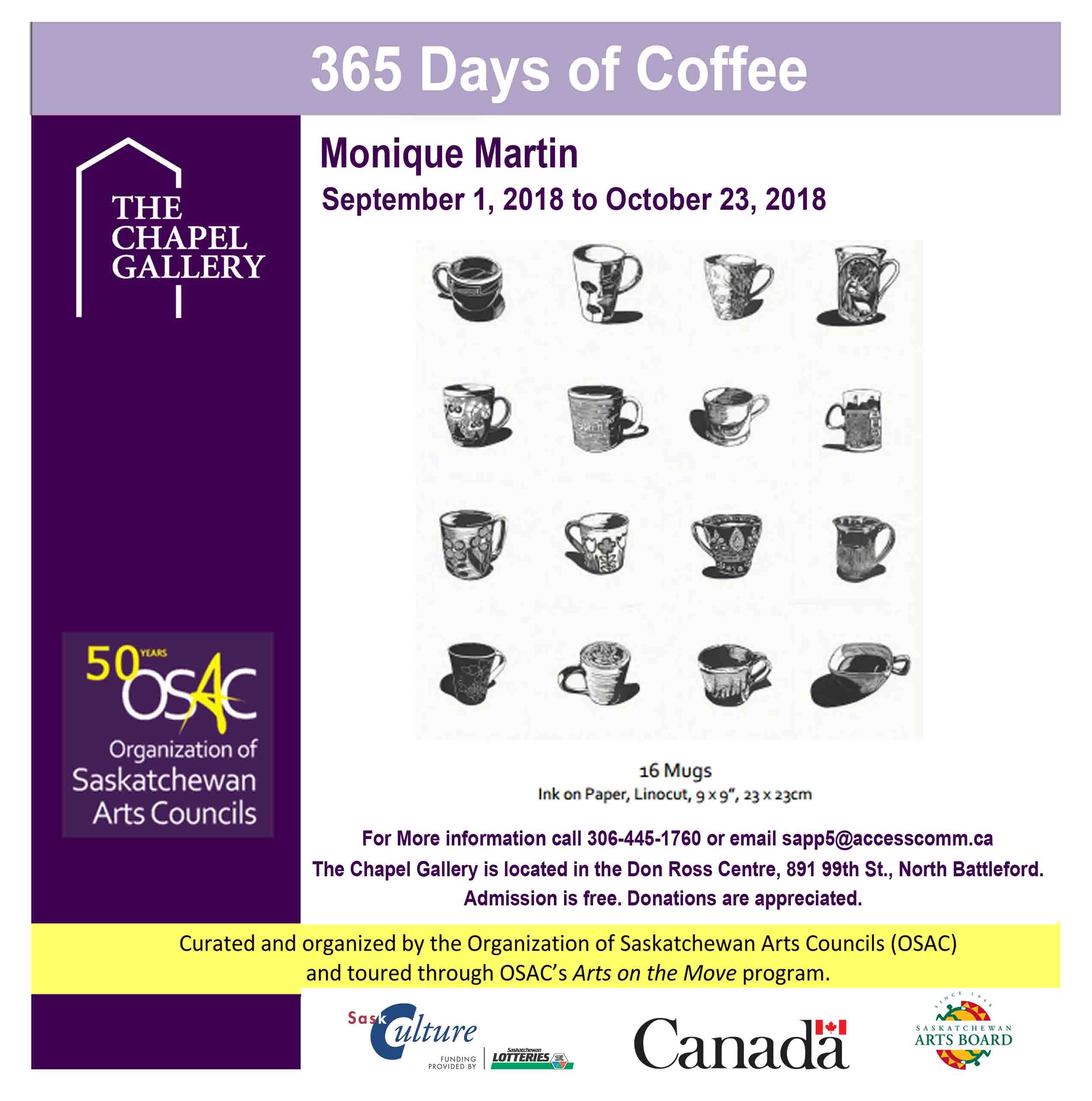 ---
Cate Francis: Paper Wildlife Conservancy
---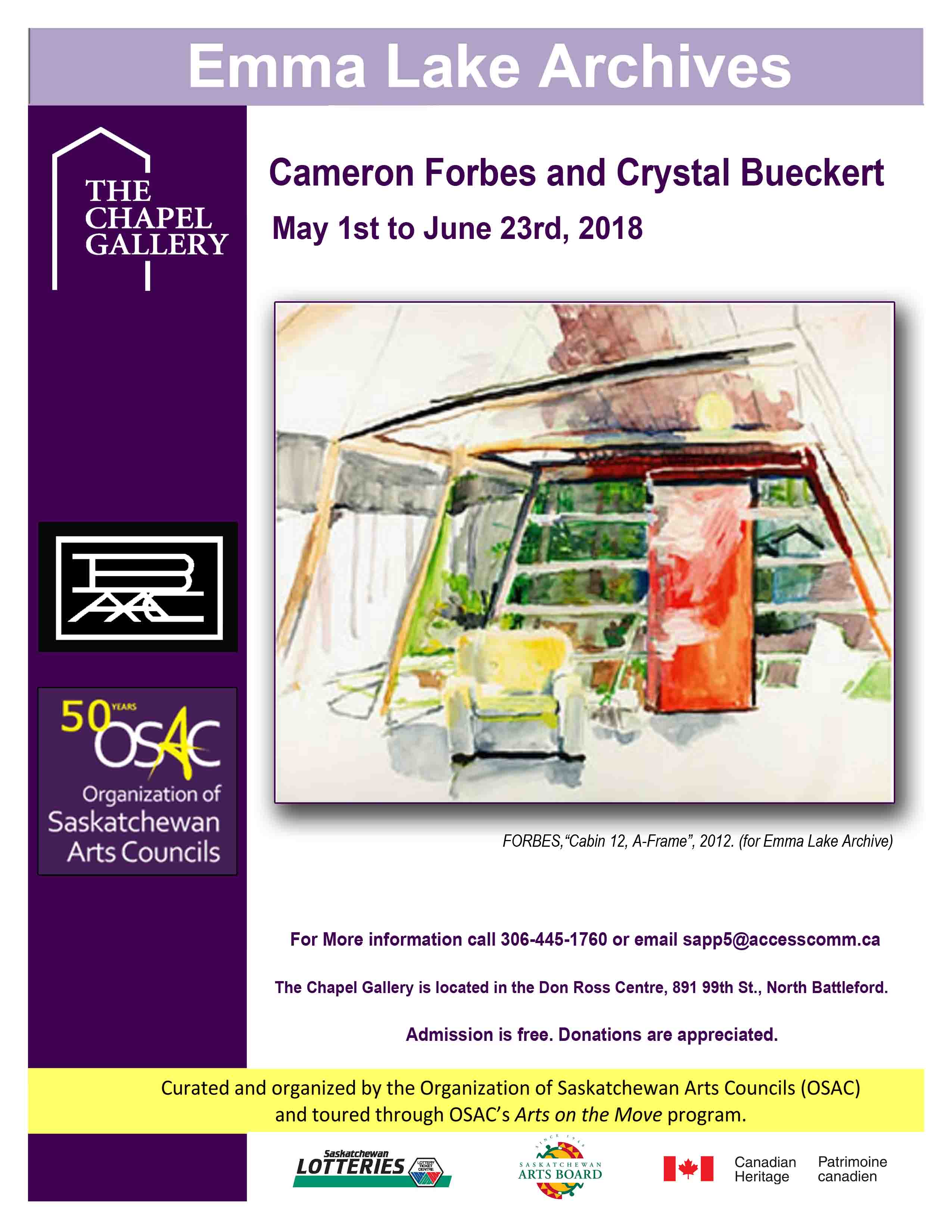 ---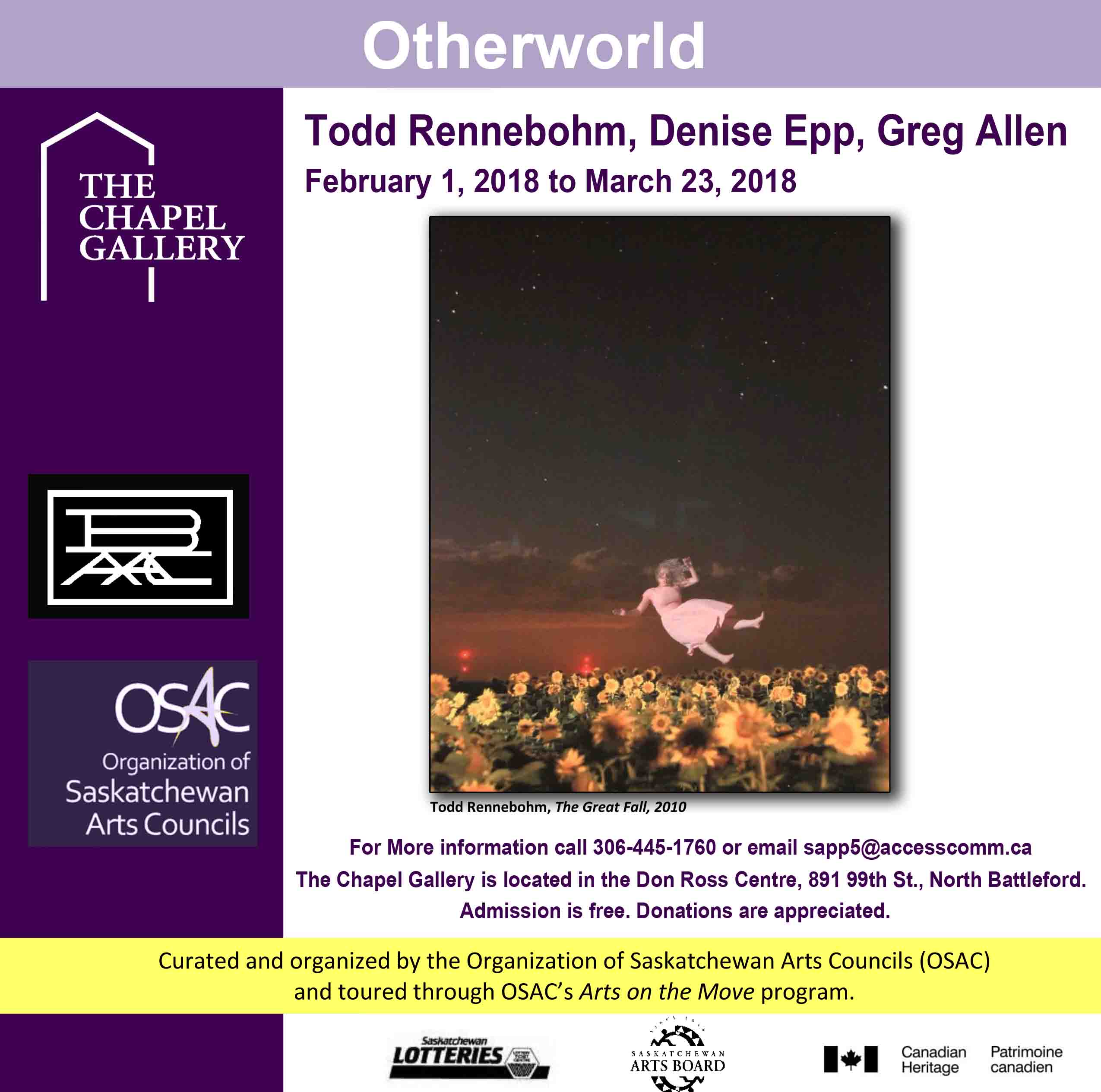 ---
Main Gallery Exhibitions 2017
---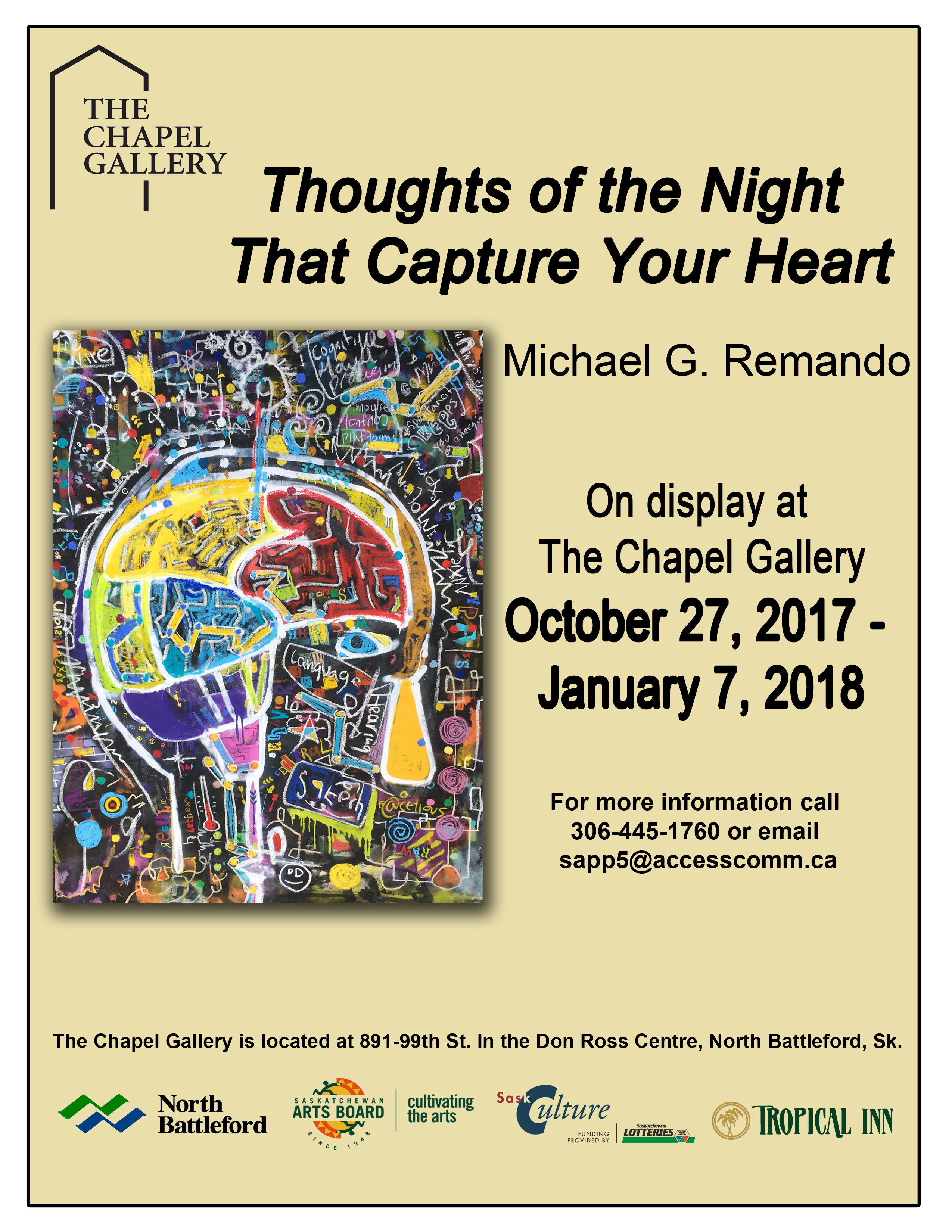 ---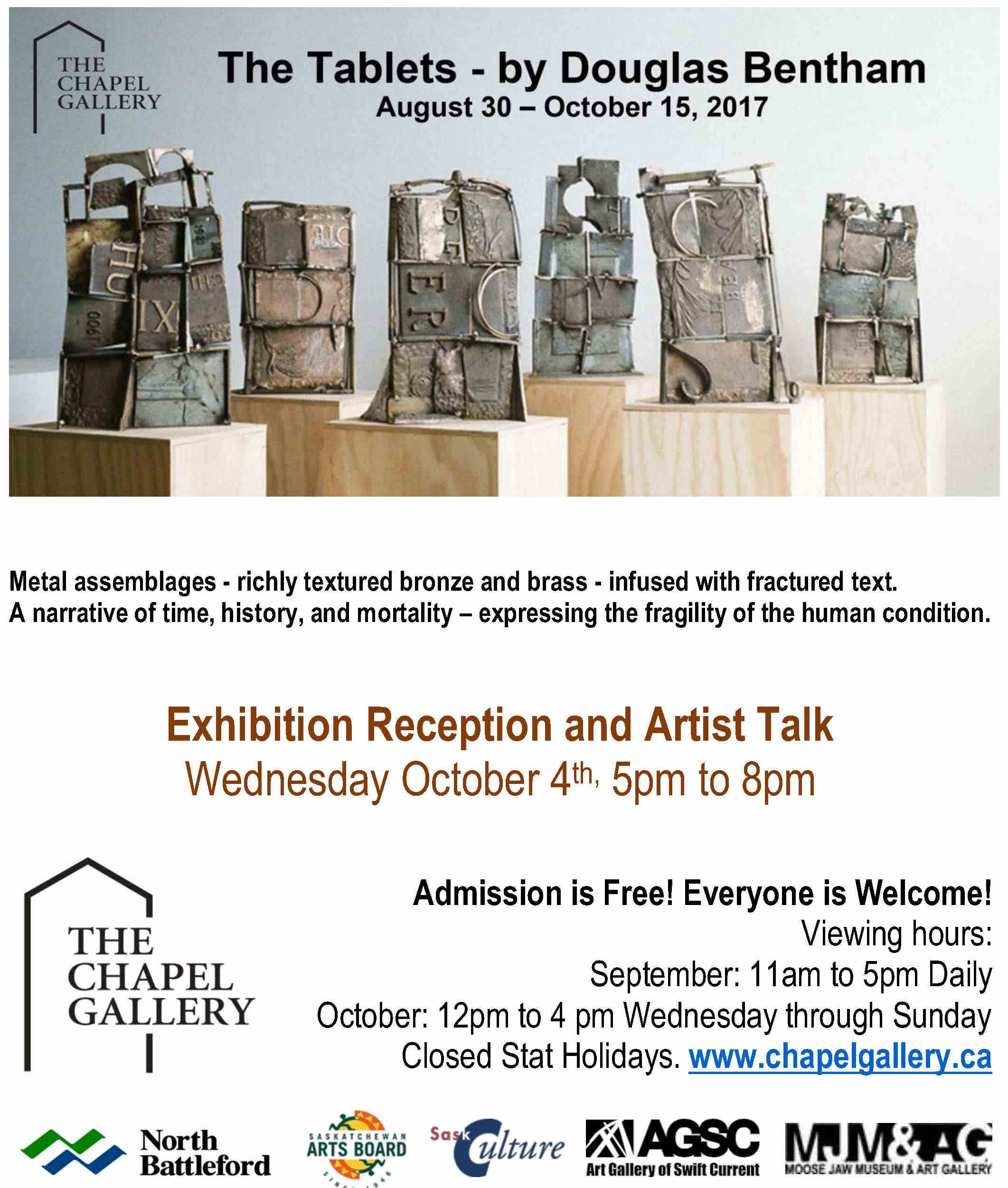 ---

---

---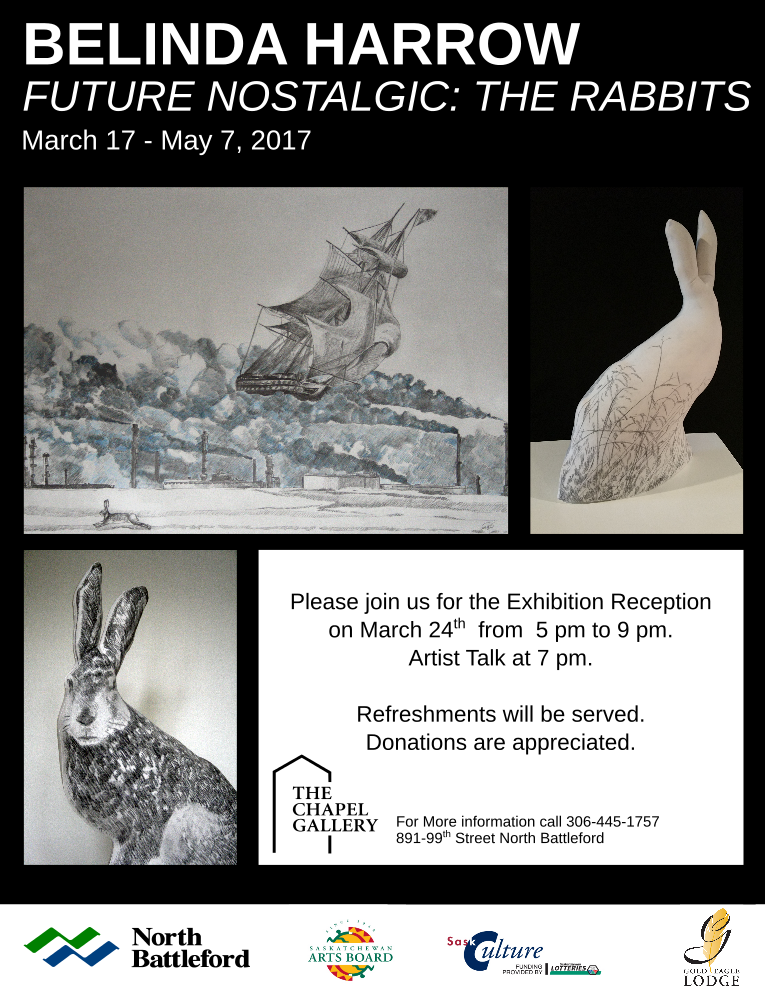 ---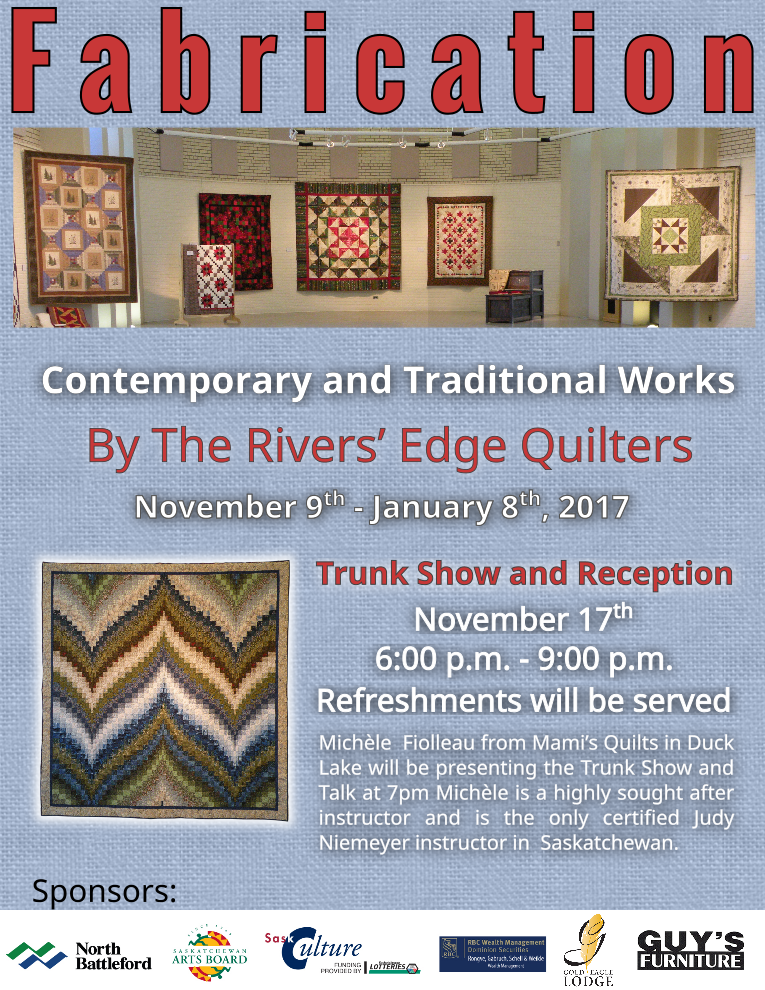 Windows Salon Exhibitions (2017)
---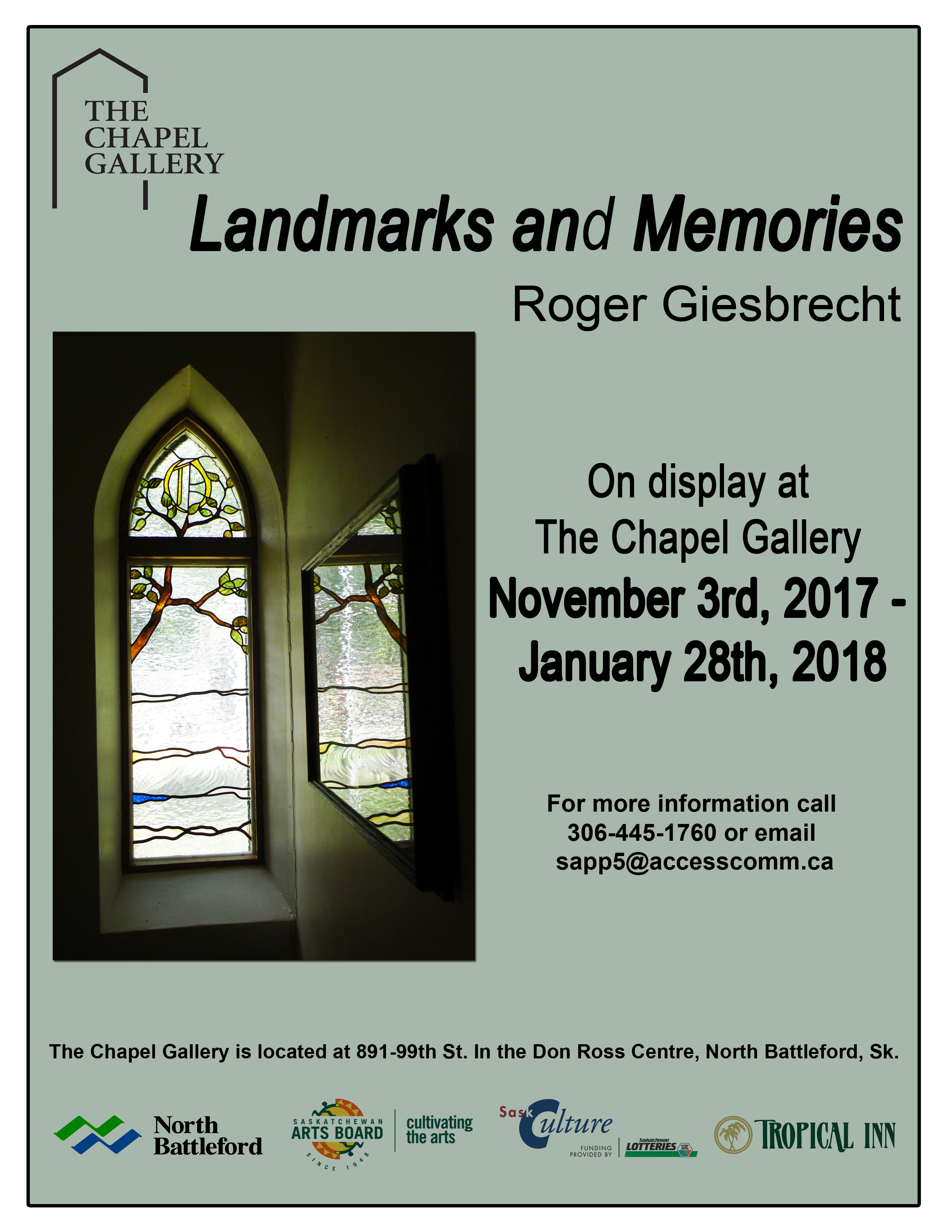 ---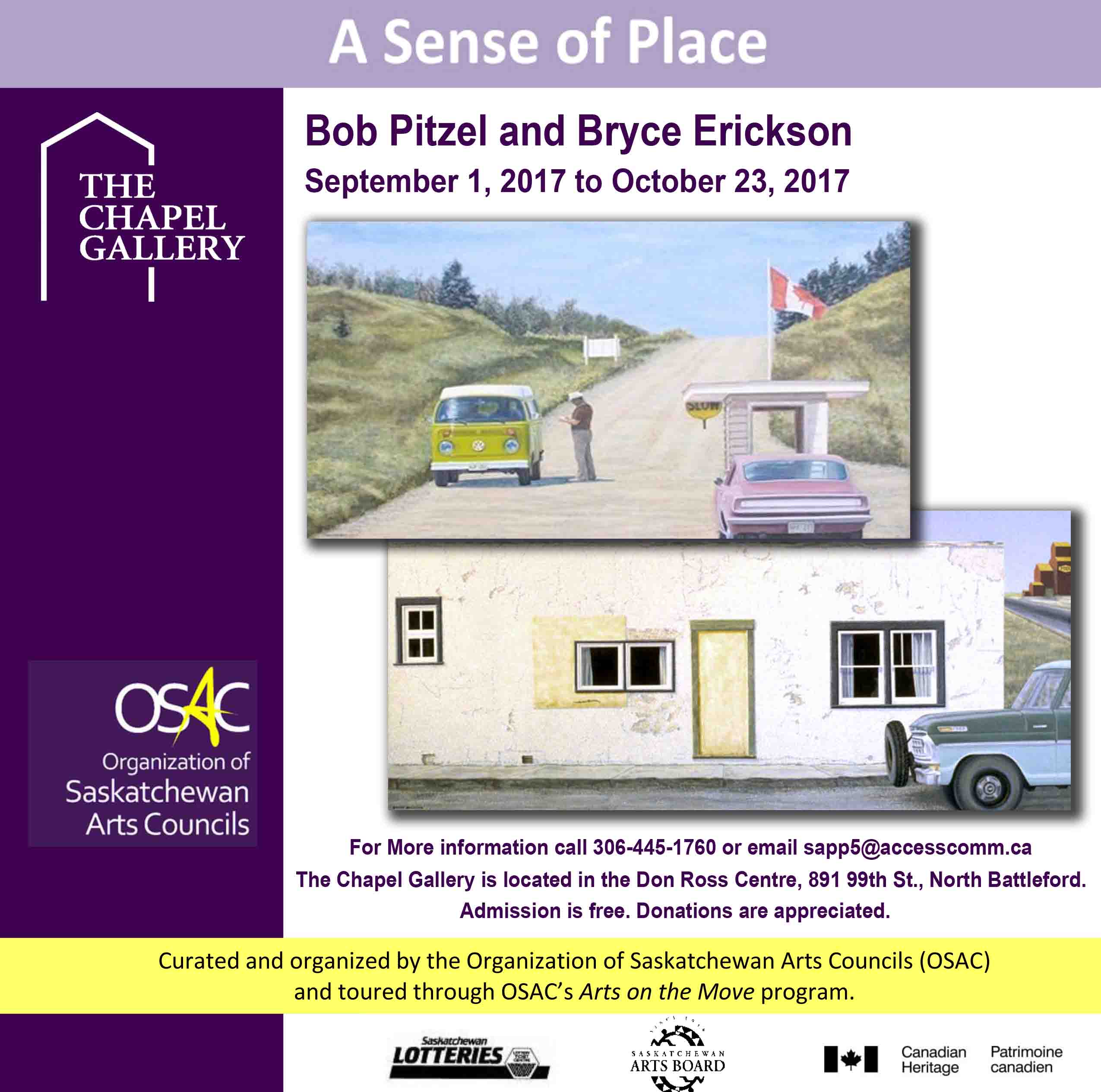 ---

---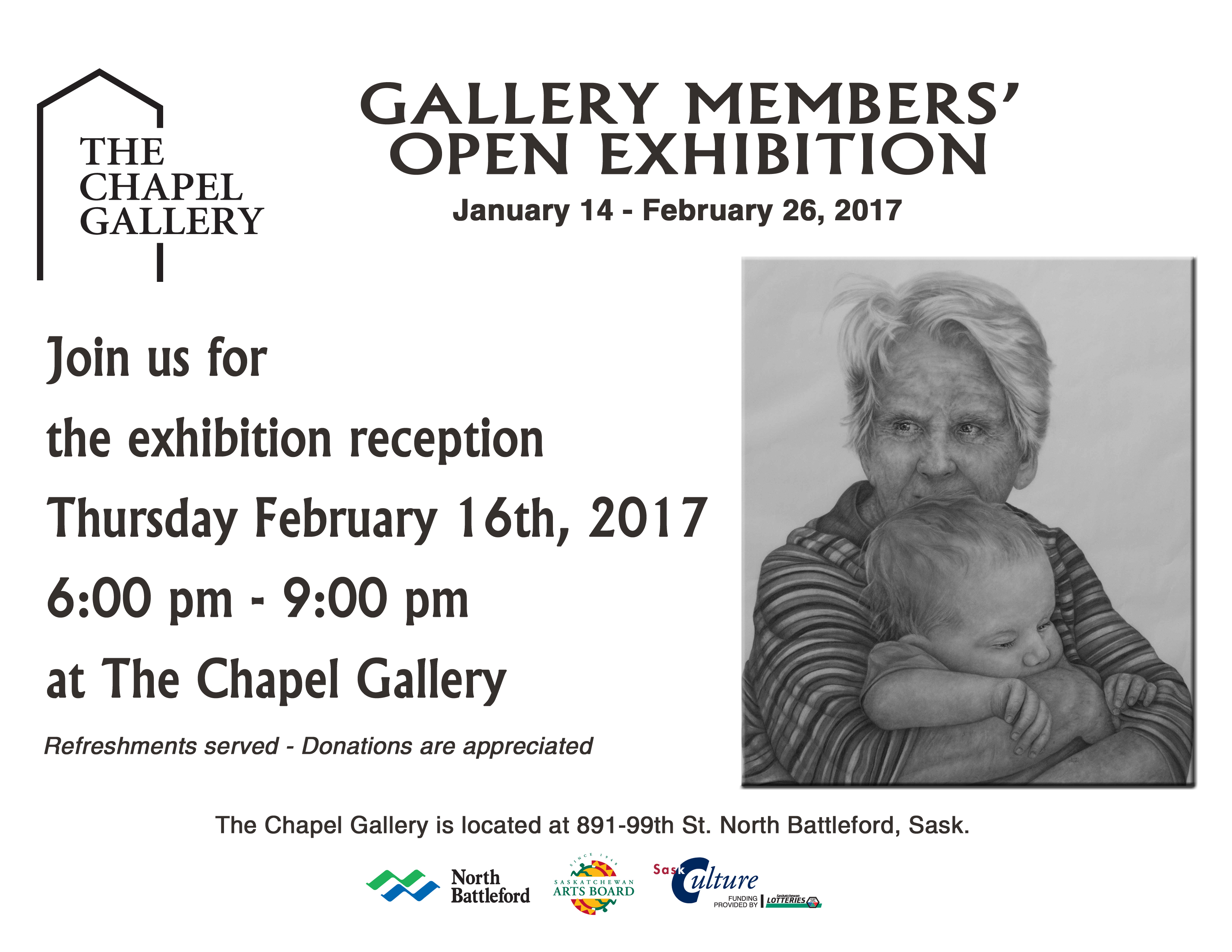 Main Gallery Exhibitions (2016)
---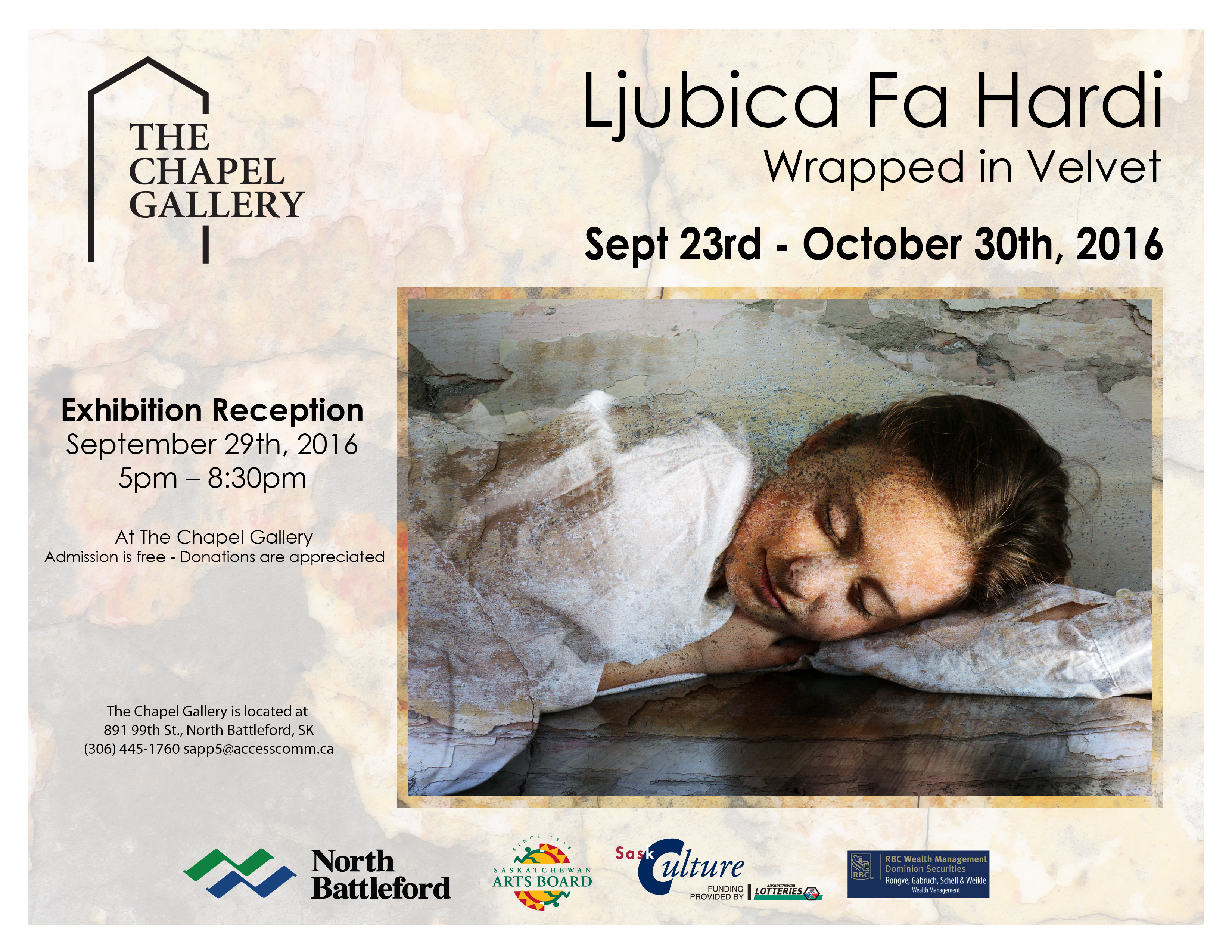 ---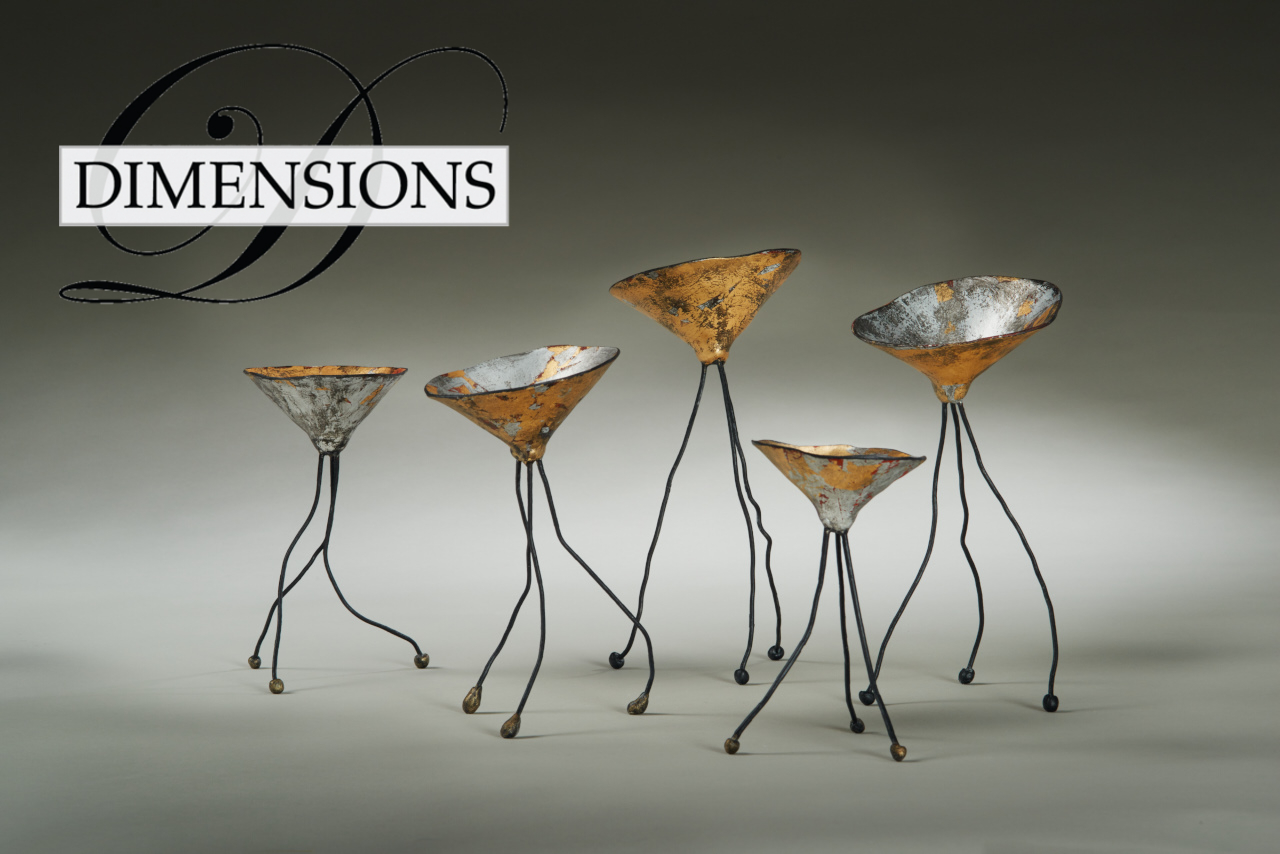 DIMENSIONS

• Chapel Gallery, North Battleford, SK — July 8 to September 4, 2016
---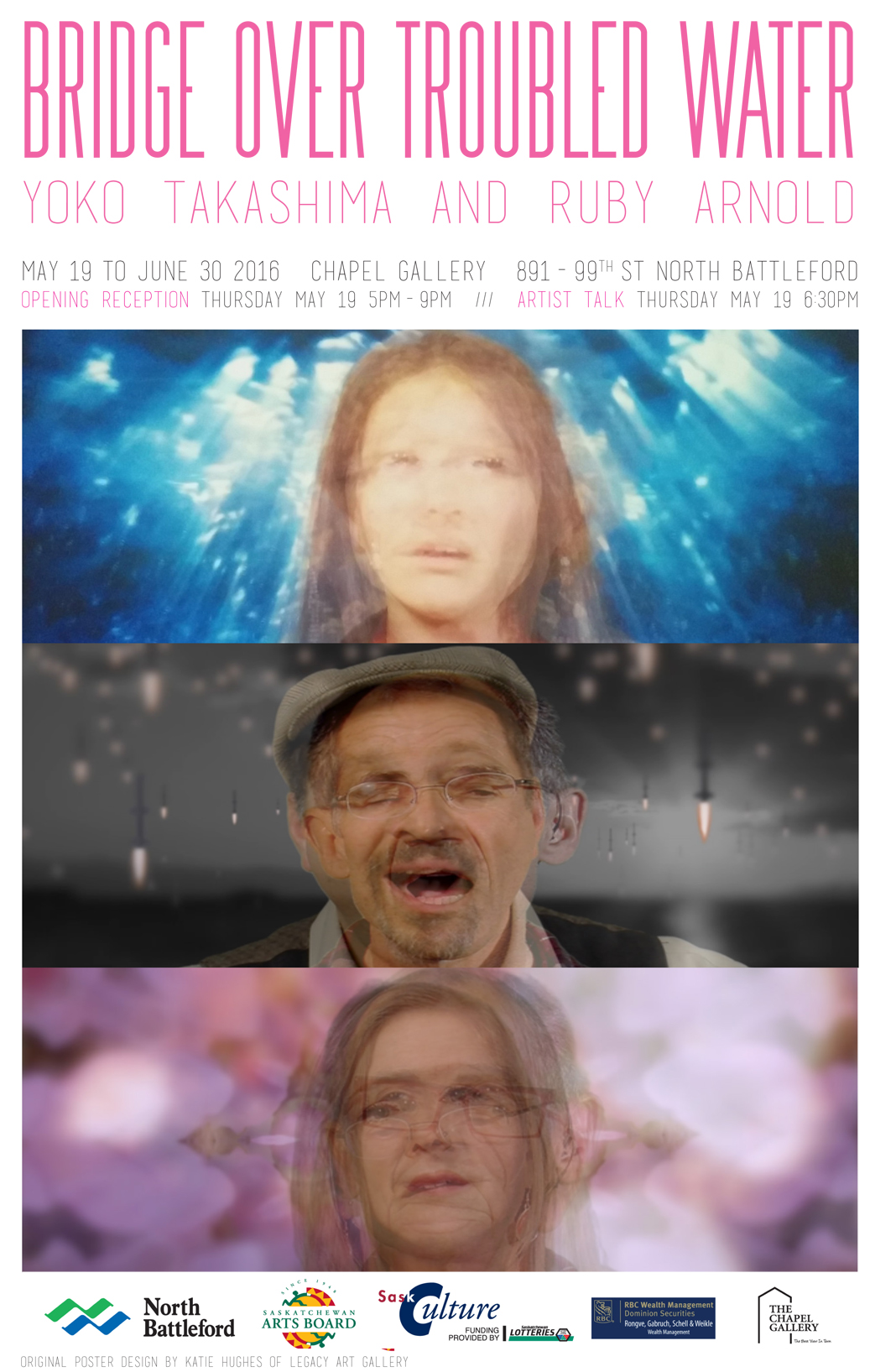 ---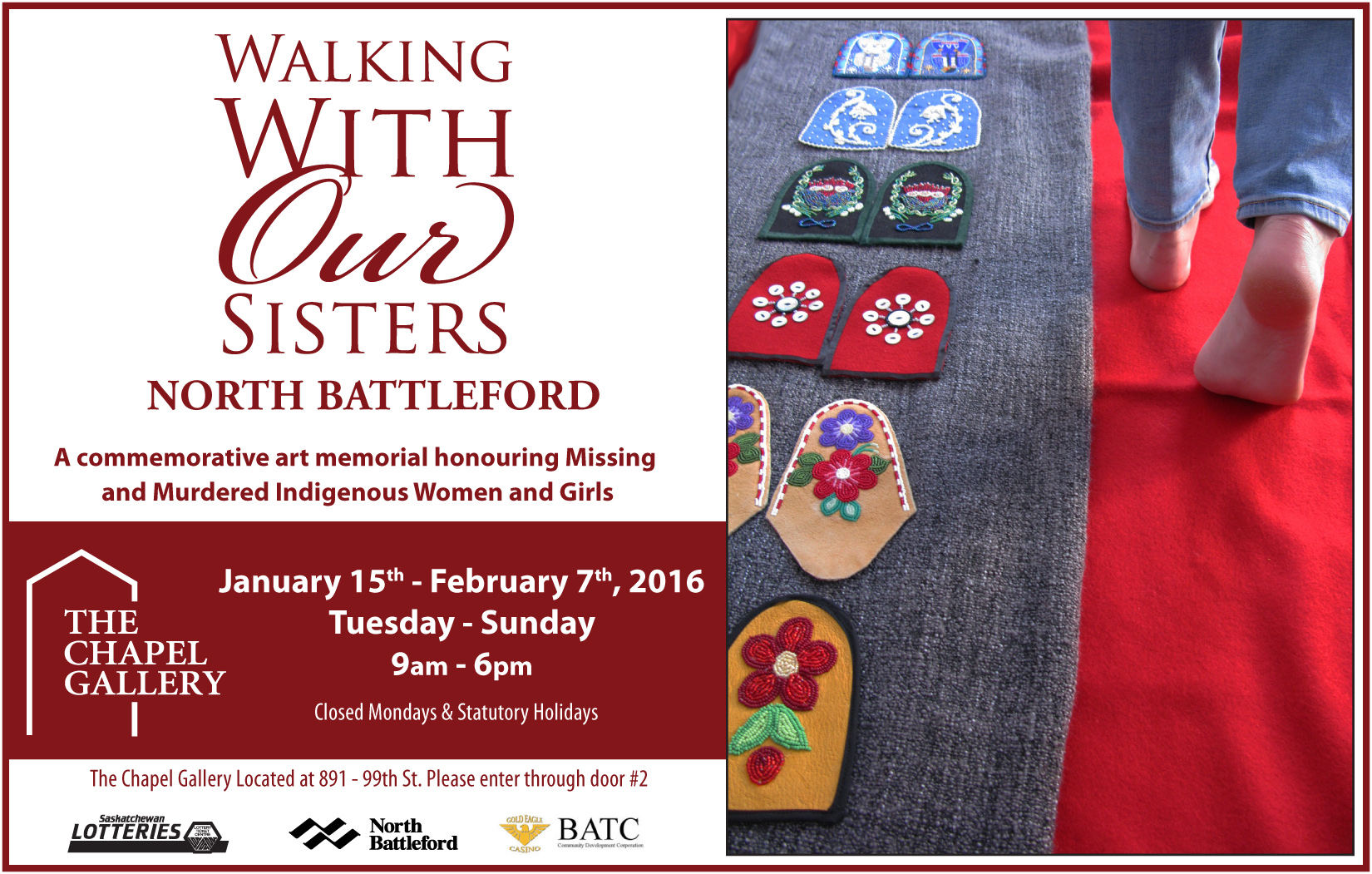 ---

Window Gallery Exhibitions (2016)
---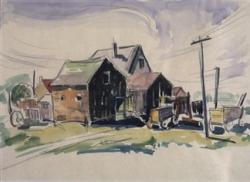 Bart Pragnell, Untitled, watercolour on paper, 21 x 30 cm, c. 1940
---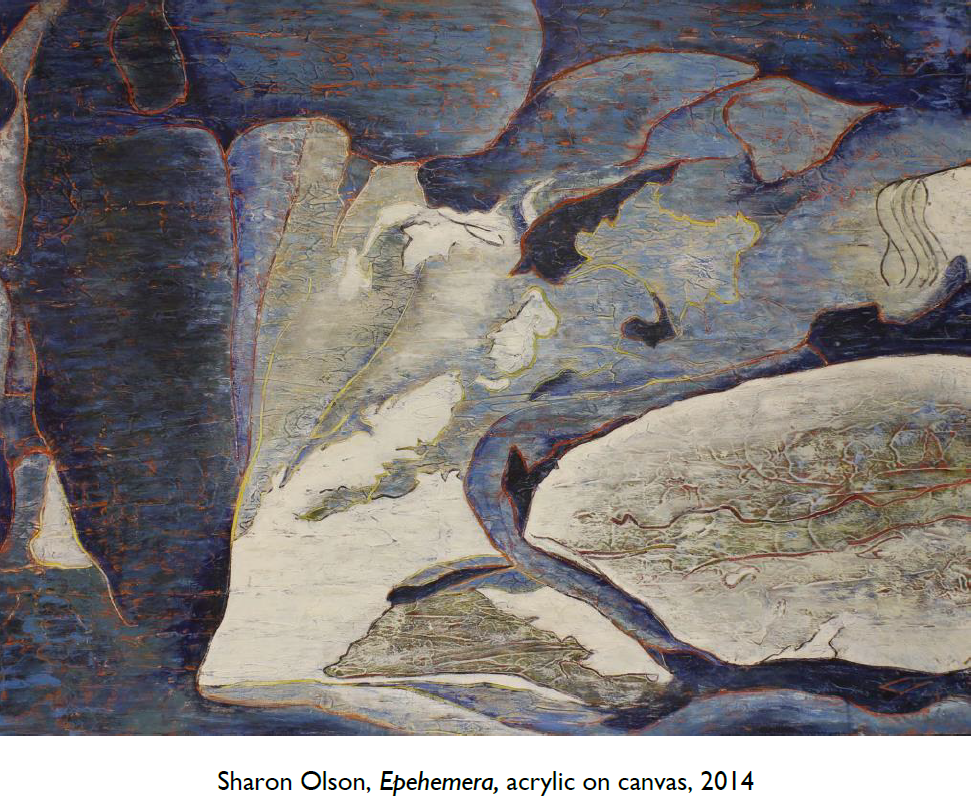 • Chapel Gallery, North Battleford, SK — TBA
---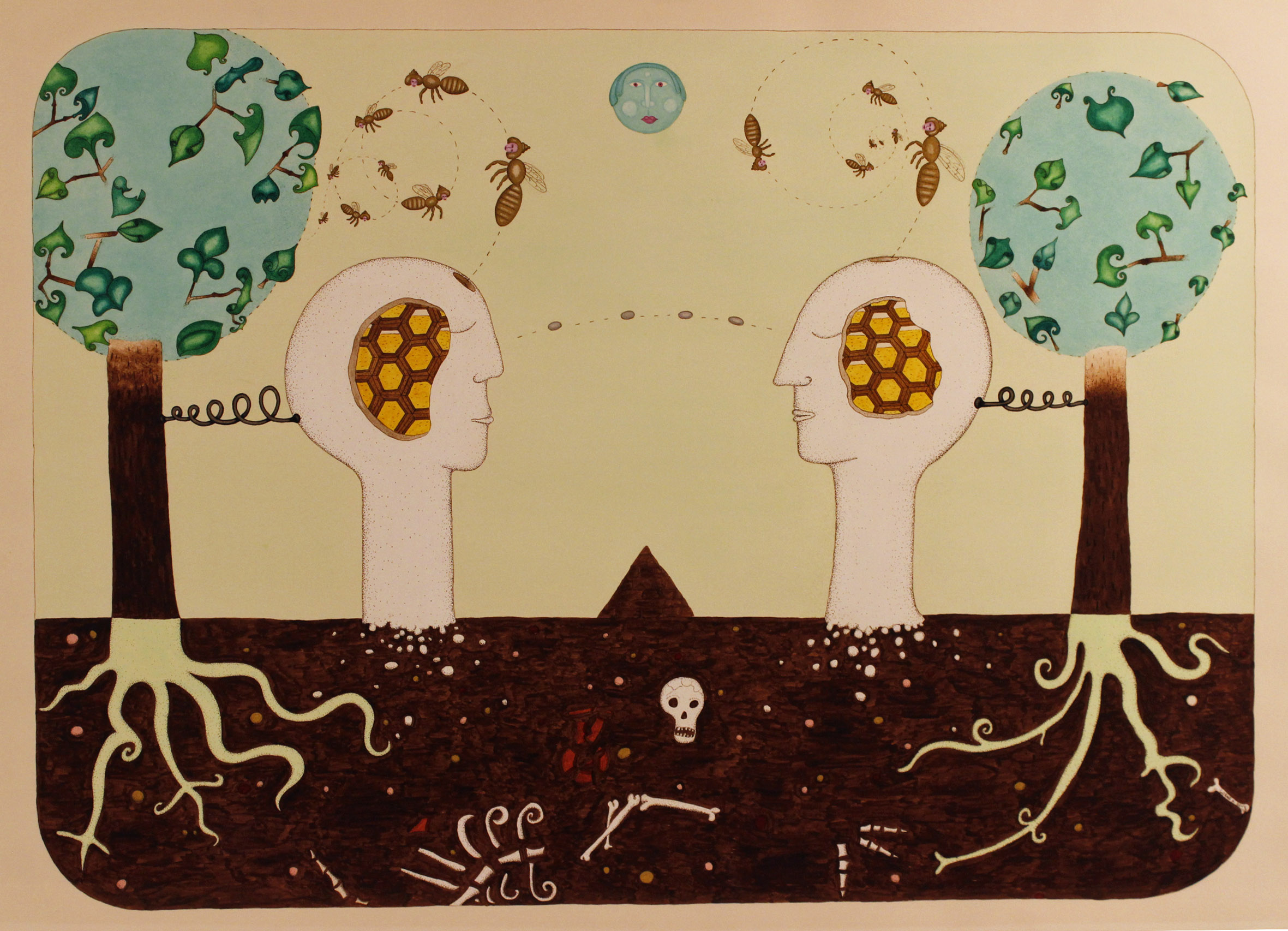 There's an Artist in the Garden

• Chapel Gallery, North Battleford, SK — July 1 to August 23rd, 2016
---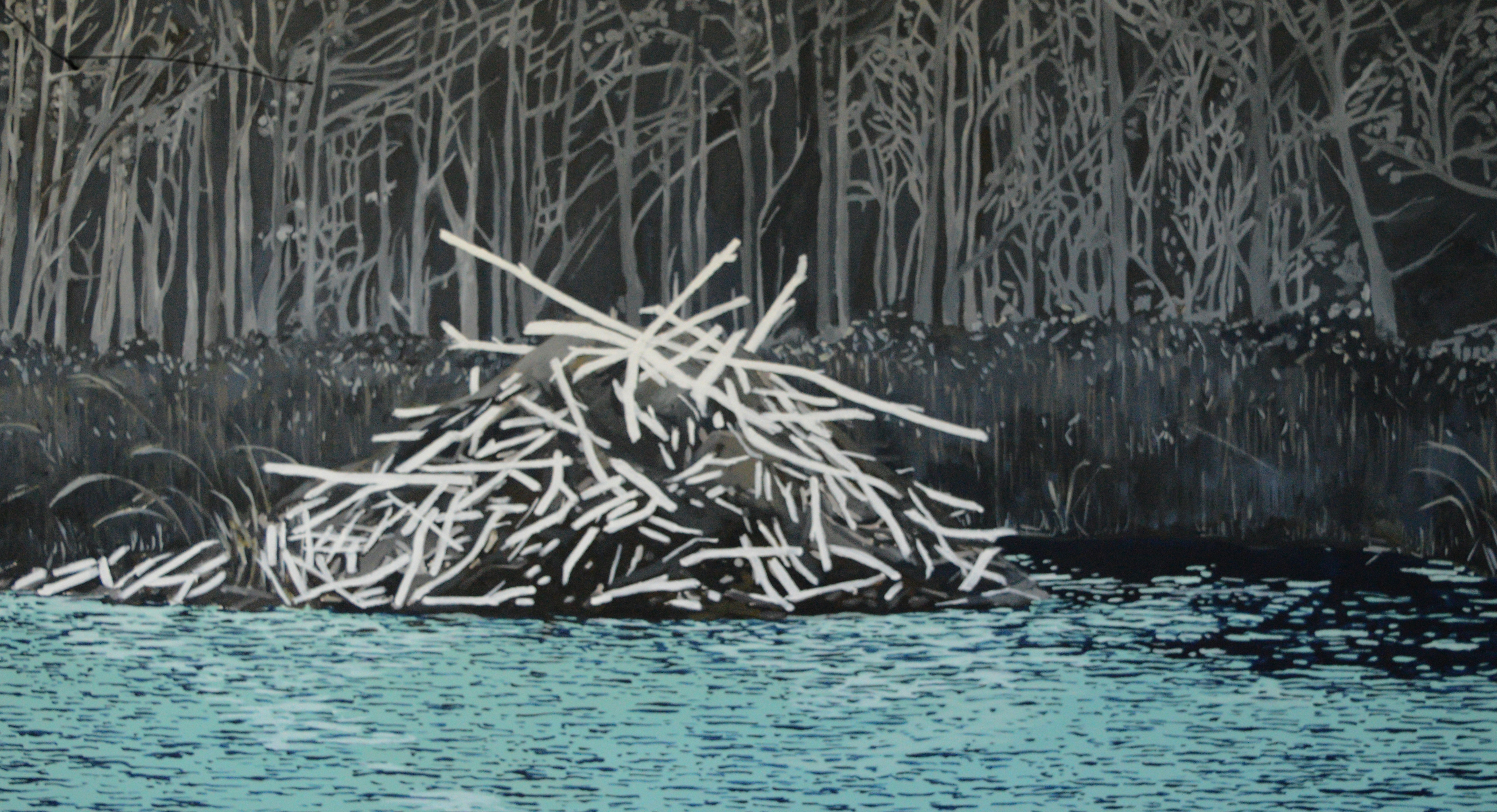 Community: Battlefords' Allied Arts Council
May 1, 2016 to June 23, 2016
Location: Chapel Gallery
Main Gallery Exhibitions (2015)
---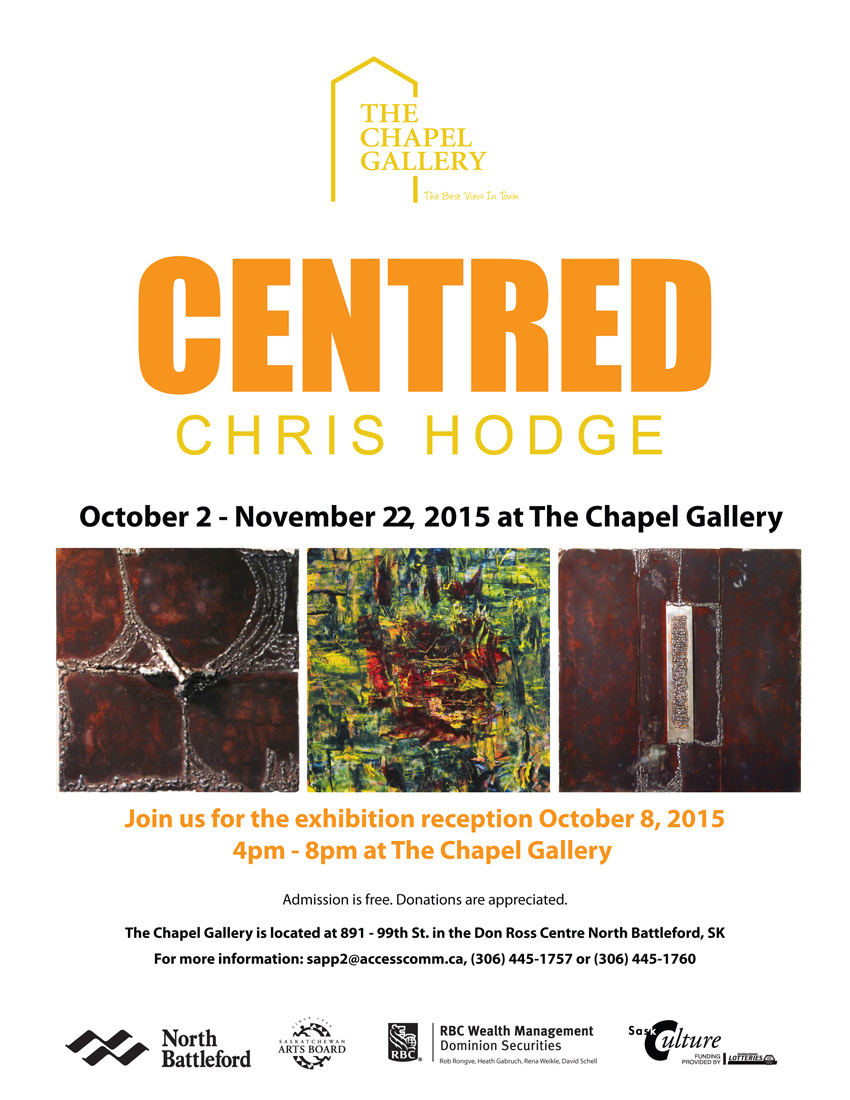 ---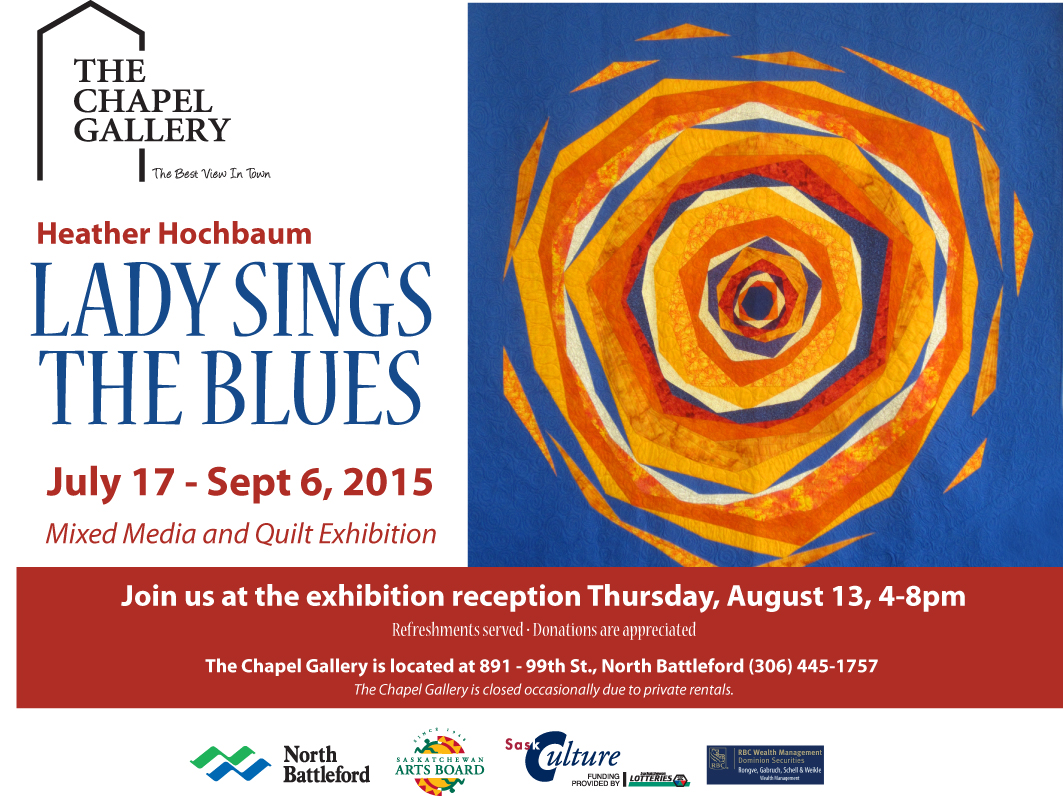 ---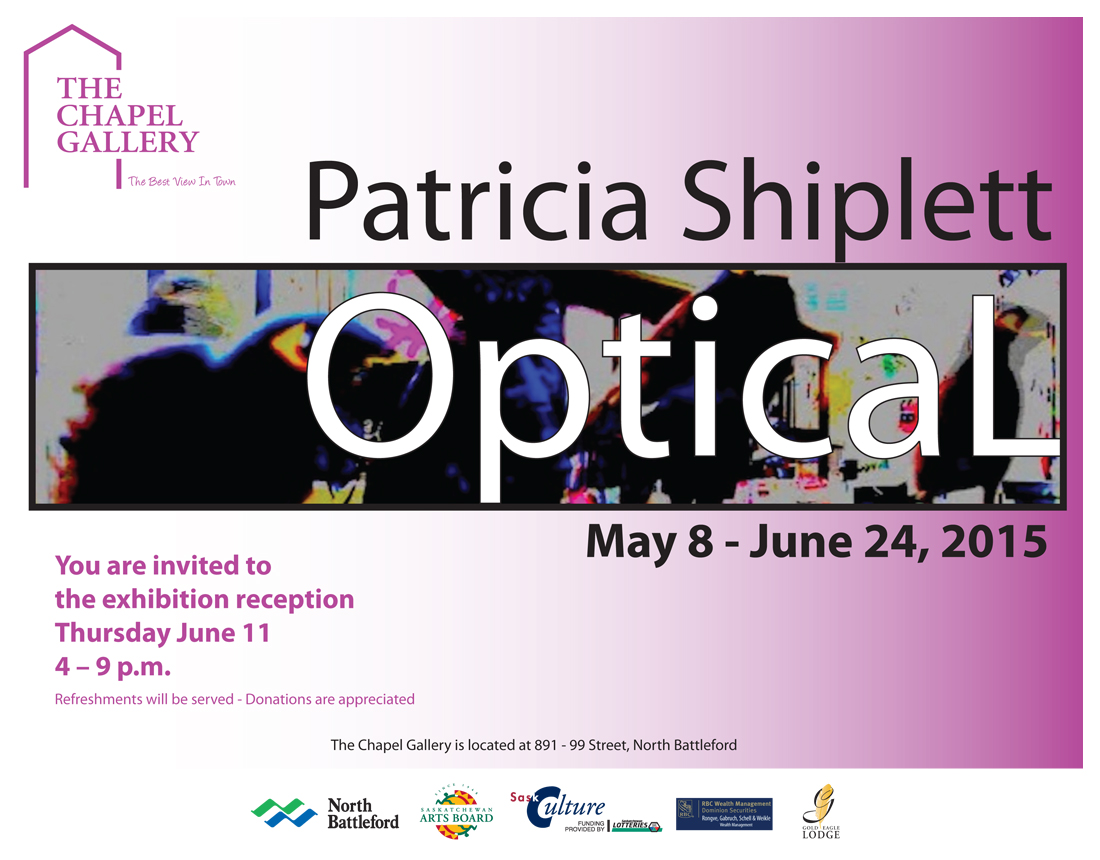 ---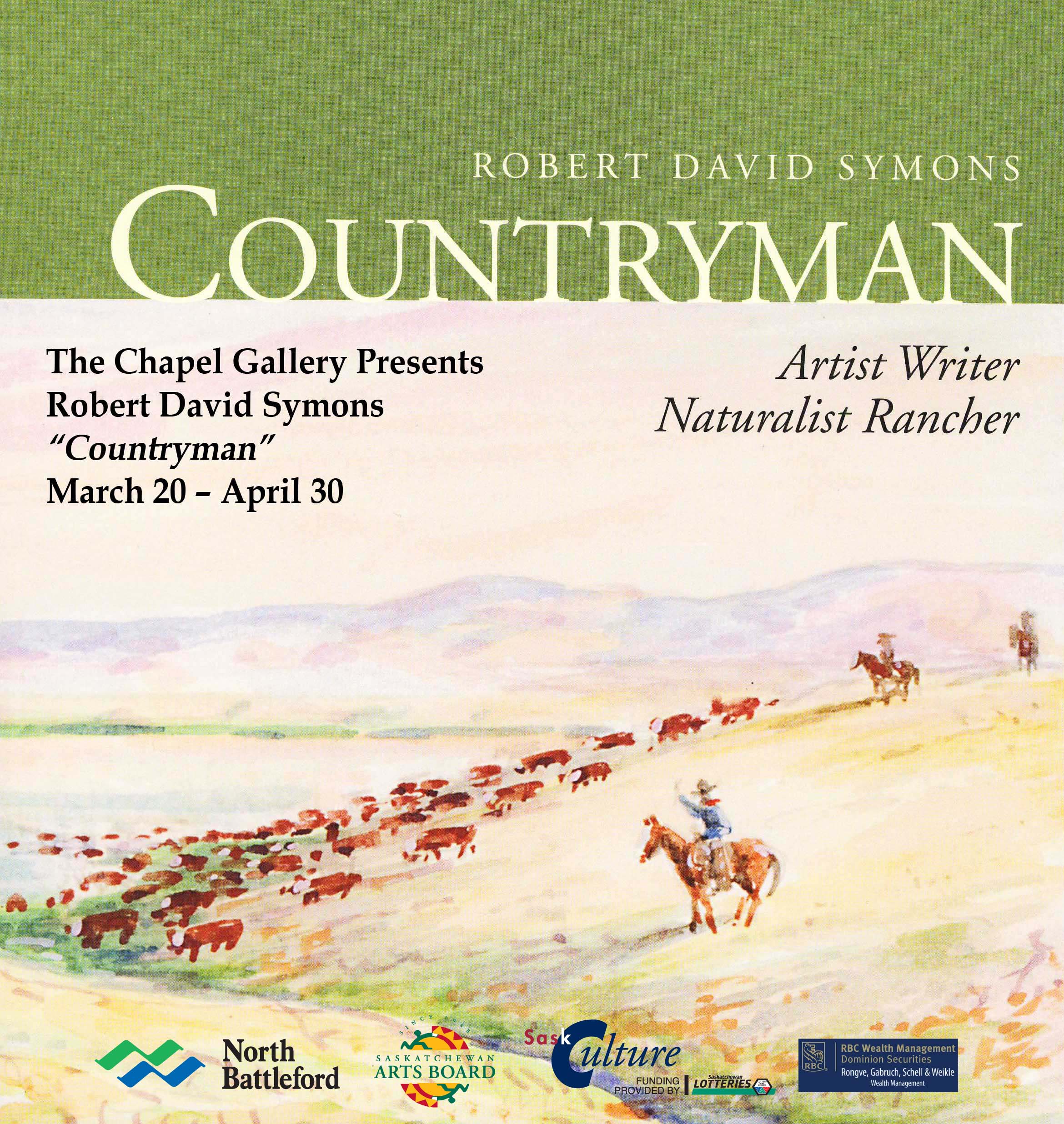 ---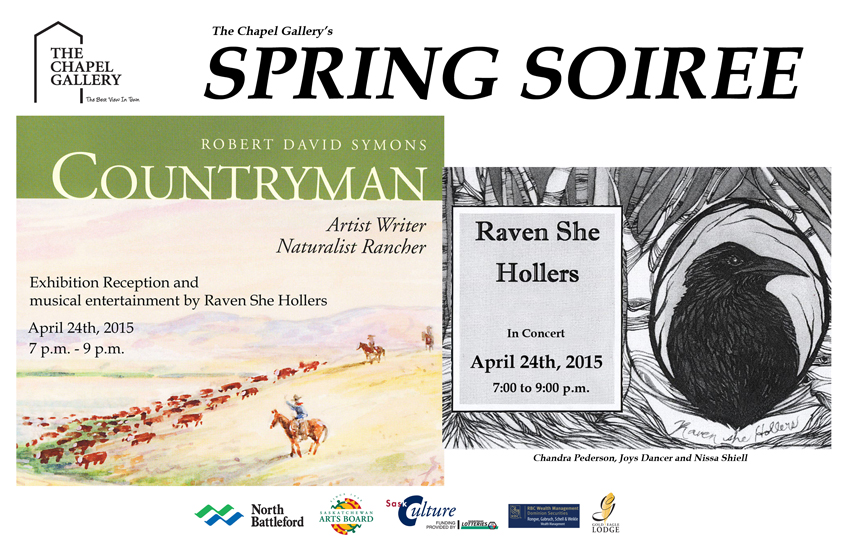 ---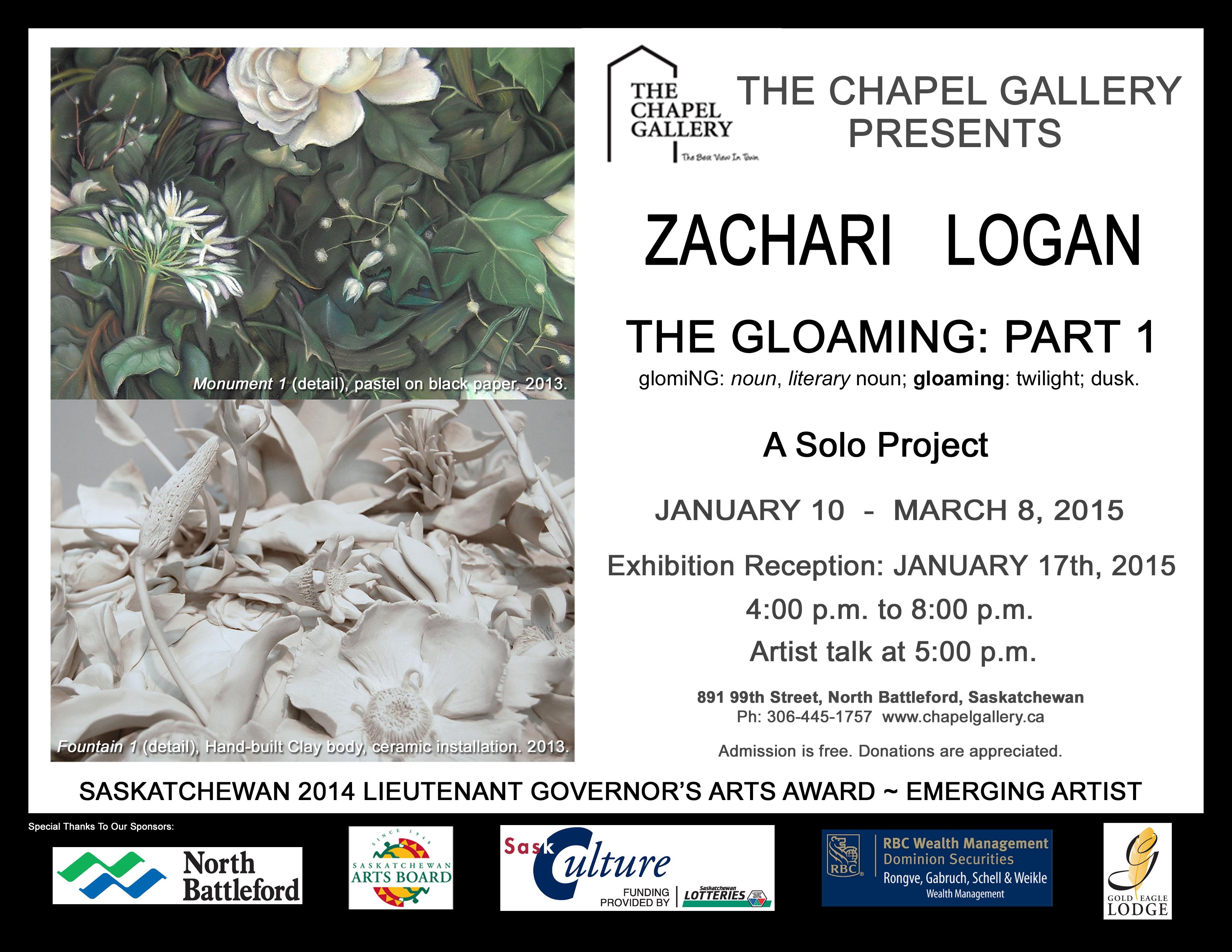 Click the above image for the News Optimist article written about this exhibition.
Window Gallery Exhibitions (2015)
---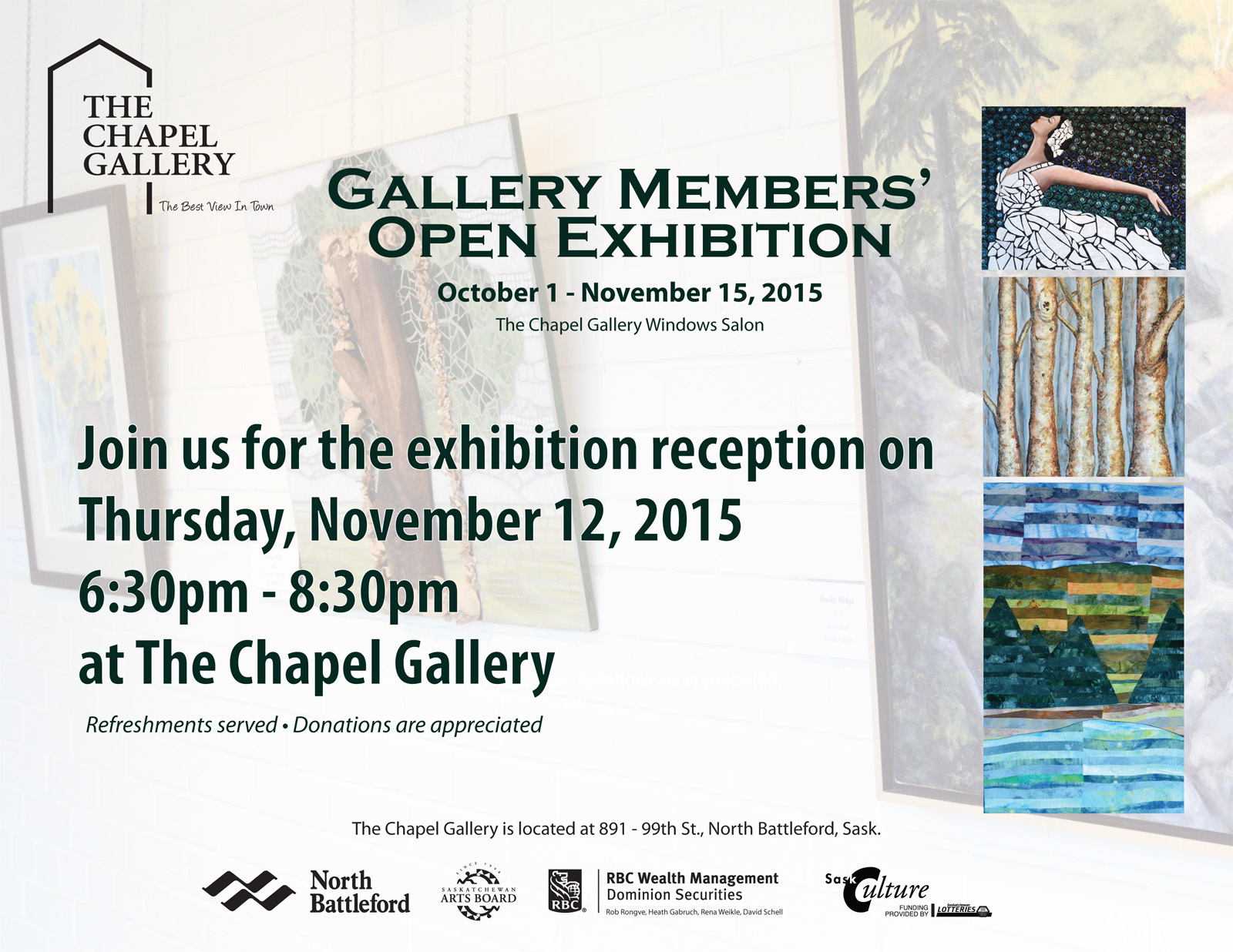 ---
Out of the Vault - City of North Battleford Permanent Collection July 24 – August 26th
---
Ed Packages:
Hi-Fibre Content.pdf
Megan Morman, "Vincent (Montreal)", needlepoint, 10.5 x 13.5", 2012.
Curated by Zoe Schneider and organized by the Organization of Saskatchewan Arts Councils (OSAC)
Hi-Fibre Content features a selection of Canadian prairie-based artists working within the realm of contemporary art/craft. The work in this exhibition can be described as political, satirical, observant, witty and charming.

Hi-Fibre Content features a variety of fibre mediums and processes: needlepoint, embroidery, hide/hair-work, sewing, and soft sculpture. The artists featured in this exhibition are: Amber Anderson, Joseph Anderson, Mindy Yan Miller, Megan Morman, FarLee Mowat, Lissa Robinson & Jill Waldron.

Contemporary fibre is as varied as the materials, methods and artists who use them. The works brought together for this exhibition represent the way contemporary artists utilize fibre as a medium. The work often challenges traditionally held perceptions of craft while employing these traditional materials and processes.

This exhibition features both two and three-dimensional works.
---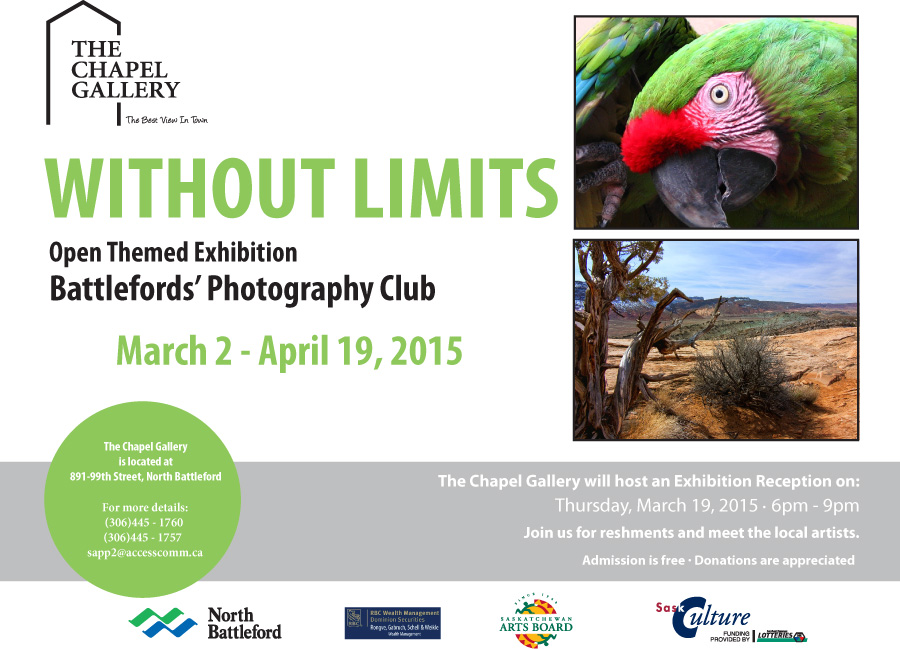 ---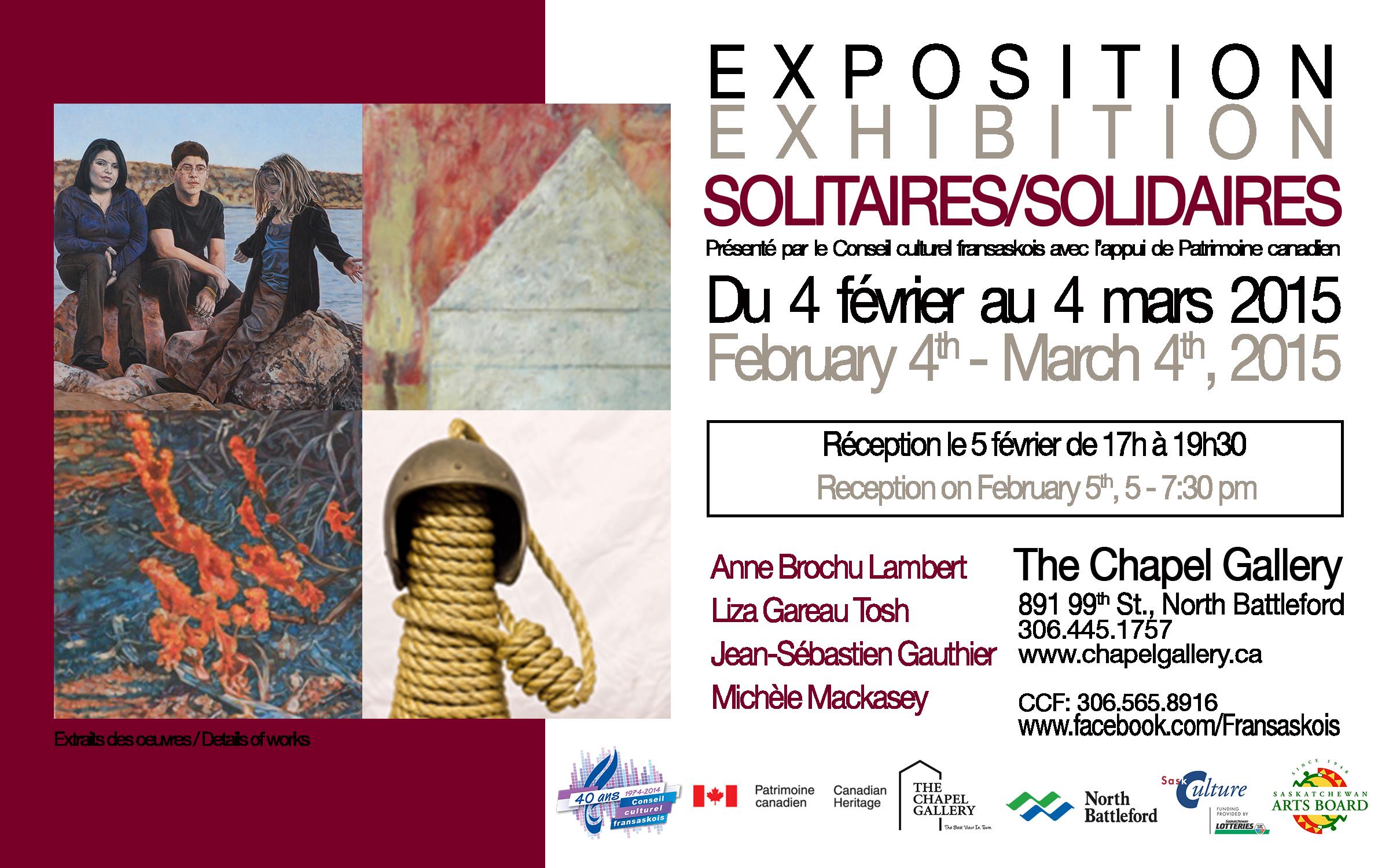 Click the above image for the News Optimist article written about this exhibition.
---
Main Gallery Exhibitions (2014)
---
THE PRAIRIE SCULPTORS' ASSOCIATION EXHIBITION

OPEN EXHIBITION

September / October 2014




The Prairie Sculptors Association and The Chapel Gallery Sculpture Symposium

August 10 – October 23rd
"Love Stories: Listening and Seeing as Gestures Towards Reconciliation"

Sandra Semchuk

June7th-July 27th
Reflections of the Earth -

Bonnie Macnab


Featuring hand painted silks inspired by Bonny's plein air studies
Selected works by Dean Bauche, Karlie King, and Jay Kimball

Dreaming Ourselves as Each Other - Carl Beam and the Columbus Suite
OSAC Exhibition

March/April
Windows Gallery Exhibitions (2014)
---
Gallery Members Thematic Exhibition


Ancient Evenings and Distant Stars

November 19th - January 4th, 2015

CLICK IMAGE TO THE RIGHT
FOR MORE INFORMATION.






She Sparkles

Rosemarie Stadnyk

&

Melanie Rudy

October 2nd - November 16th

2014

August to Sept.

Members Exhibition

Open Exhibition


June 7th to July 20, 2014


"HONOUR THE CHILD" – Group Exhibition

Sponsored by Sunchild Law – Residential School Exhibition

June 7th – July 20th



May

Battlefords' Art Club Exhibition


Fertile Ground
OSAC Exhibition


March/April

Dreaming Ourselves as Each Other - Carl Beam and the Columbus Suite
OSAC Exhibition
Main Gallery Exhibitions 2013
---
Progress: Edie Marshall
January

For Edie Marshall the painting process is one of responding to the marks made during the tracing process, bringing the figures forward and pushing them into the background of the canvas, blending with and at times losing them in the landscape. The images become fractured with autonomous brushstrokes that don't necessarily conform to a given contour, creating a tension between image and brushstrokes.

Creative Play
February

The Saskatchewan Arts Board 65th Anniversary
Creative Play
Traveling Exhibit


Oblivious Sanctum: Prairie Wind
March 15 – April 30

Paul Constable

This visual intensive exploration is of wildlife and man meeting on the prairie panorama. Using the brush and canvas, as well as multimedia Paul Constable interprets the outcomes of two driving forces, each with a mission that sometimes crosses in the most inconvenient, unplanned, and unwanted times.

The Battlefords: 100 Years of Art
May 1 – 31

Featuring works from the Permanent Collection of the City of North Battleford

The chapel gallery is please to participate in the 100 years celebration of the City of North Battleford with arts festival bringing forward the history of the arts and showcasing the arts of today. A symposium of the arts will compliment this historical exhibition and bring together on one stage venues for vision and collaboration.

Prairie Excellence
June 8 – August 8

Prairie Excellence is a unique and ground-breaking joint project of the Manitoba, Saskatchewan and Alberta Craft Councils.

Exploring North Battleford
Aug. 21 - Sept. 3
Exploring North Battleford at 100
Stuart Kasdorf, Douglas Rarog, Tara Yolan
The Pool Project: Courtney Milne
September 3 - October 27

It started serendipitously, as do so many things. We had lived for nine years on our stunning 80 acres of aspen parkland in Grandora, near Saskatoon. The pool came with the house, located right outside our patio door. Courtney frolicked in it, had diving contests with the nephews, and an annual birthday underwater swim to test his lung capacity – but he never photographed it.

Rivers Edge Quilting CLub
November 6 - December 15

Rivers Edge Quilting Club

Masquerade of Immortality: The Mask
December 18 – March 3 2014

This exhibition showcases contemporary Canadian mask makers. An aura of immorality transcends as we make the interconnection of the life of a mask and the relationship it has with its maker. As a mask maker, the creator of a replication of another face, you have a force of creation to cover an identity for the purposes of camouflage, intrigue, power, and invincibility. When the mask is passed on to a new owner so is the power of the mask and the effects it has on its wearer and observer.
Windows Gallery Exhibitions (2013)
---
Fairy Tales: New Interpretation
January

Gallery Members Thematic Exhibition

February

The Art of Jean Humphrey

March

Works from Jay Kimball

April

Current Works from Grace Gerein


May

Remembering Amelia

OSAC
June

Artist Trading Cards: No Story Too Small To Trade


July

Battlefords Photography Club

August

The Art of Dana Standinghorn

September

The Art of Dana Standinghorn

October

The Art of Anne Sather

November/December


Gallery Members Exhibition
Theme: Angels Dwell Here





Main Gallery Exhibitions (2012)
Dimensions Growth 2012
June 1- July 23

The Saskatchewan Craft Council's biennial, open, juried, touring exhibition encourages and rewards excellence in hand-crafted work.

Mind the Gap
April 4 - June 3

Mind the Gap celebrates, with resounding exuberance, the wealth of talent amongst the diverse population of emerging artists in the province of Saskatchewan. The title refers to the often misguided term that Saskatchewan has recently come to be saddled with – the gap in the Canada's geo-cultural landscape. The exhibition's title also quotes the famous automated safety warning on the London tube, "Mind the Gap!" We do mind actually. And the world should mind Saskatchewan. This exhibition includes visual arts from 30 artists from 14 cities and towns across Saskatchewan.

A Dunlop Art Gallery Touring Exhibition

Artless Fabrications:
Carol Schmold
March 1 - 25

On January 1st, 2007, Carol Schmold embarked on a personal creative journey, creating a work of art each week for a year, which resulted in a collection of 52 small fibre works that she describes as "sincere textile compositions". Seeing the fibre works as intimate extensions of the pages of her journal, Schmold's works explore various fibre art techniques and approaches to image-making. The project began as a self-directed challenge, motivated by the desire to get back in touch with her artistic creativity, to explore new techniques in fibre art and discipline herself to work within an imposed deadline. The result is a visual journal of her exploration into her creative process, reflecting a personal design aesthetic and sensibility to materials. Through exhibiting these works, she offers viewers the opportunity to share in her journey, to witness her artistic growth and development through her dedicated practice, and hopes, that in viewing the work, others may be inspired to follow their own creative paths.

Campbell Tinning's
The Newfoundland Paintings
January 4 - February 26

Campbell Tinning was born in Saskatoon, Saskatchewan in 1910 and studied art at Regina College and at the Art Students' League in New York. This exhibition of work was created during a trip to Newfoundland in the summer of 1949. Newfoundland joined confederation earlier that year and Tinning, a young artist fresh from his success as an Official War Artist, was fascinated by Canada's newest province. Thirteen large watercolours in this exhibition were exhibited in Montreal in 1950 and have remained together as a group – passed on to his niece and nephew after his death in 1996.
Windows Gallery Exhibitions (2012)
Entangled: Twyla Exner
July 2012

Organized and toured by OSAC through its Arts on the Move program
Selected from the 2009 Call to Adjudicated Artists

Twyla Exner is interested in the relationships between cultural and natural production, consumption and waste, high and low technology, and biological and mechanical growth. Exner's sculptures and drawings employ the notion of recreating the natural with the technological. Using wires, cords, and electrical connectors, she imitates plant pods, root systems and human physiological forms, reproducing hybrids of technology and nature that appear to be growing, evolving, reforming, overtaking and/or devouring electronic infrastructures and architectural spaces.

Karlie King - DeskArt (pronounced day-Kart, like the French Philospher)
June 2012

This body of artwork utilizes old wooden desk tops to visually explore and represent the ideas of French Philosopher Descartes. The desk tops were collected from Mervin School previous to its demolition in 2010.

Saskatchewan Indian Institute of Technology - SIIT

May 2012

Adult 12 students of the 'Art 30 - Foundational Goals' Course

These exhibition pieces represent the culmination of student's work over a 3 and a half month period in completion of requirements for Art 30 accreditation. Various techniques, methods, and medium were explored throughout the course. Using selected Saskatchewan artists and others' work as a focus of student study; students were asked to simply create "something" meaningful or personal on a theme of significance to themselves, their community, or their culture as reflected through the use of re-versioned recycled materials. Additional selections represent student's interpretation of "Dreams" limited to the use of stains, dyes, and paint on a wood medium and several group projects involving paper Mache with student determined themes.

Watercolour Works by Mary Matilla and Margaret Hassan

April 2012

Mary and Margaret are members of the North Battleford art club. This is their first exhibition showcasing their love and appreciation of the art of watercolour.

Ou sont passes nos reves d'antan? Whither our dreams of yesteryear?

March 2012

Featuring the current Photographic Works of Claude Desnoyers. This exhibition is Claude's contribution to this year's celebration of the 100th anniversary of the first provincial francophone organization, the ACFC.

Love is But ............

February 1 - 26

Gallery Member Show

North Battleford
Photography Club

January 1 - 29

Recent Work by the North Battleford Photography Club
Main Gallery Exhibitions (2011)
Momentum:

December 1 – 31

Terry Billings, Chris Hodge, Holly Hildebrand, Dana Standinghorn, Audrey Fine Day, Joel Carignan, Karen Kowalski, Oriol Dancer and Karlie King group show with artists in the "Creative Partnership Program"

For the past two years the Chapel Gallery has played host to a pilot artist-in-residence project. A group of eight artists from the Battlefords region have worked collectively, developed their individual practices and shared studio space. This exhibition showcases some of the results and provides insights into the possibilities of artistic communities.